A creative construction supervisor who likes to support our engineers. Someone who enthusiastically builds the exhibitions that we realise for our clients. We're talking about our colleague David Kalle – you can call him Dave. We asked him three questions.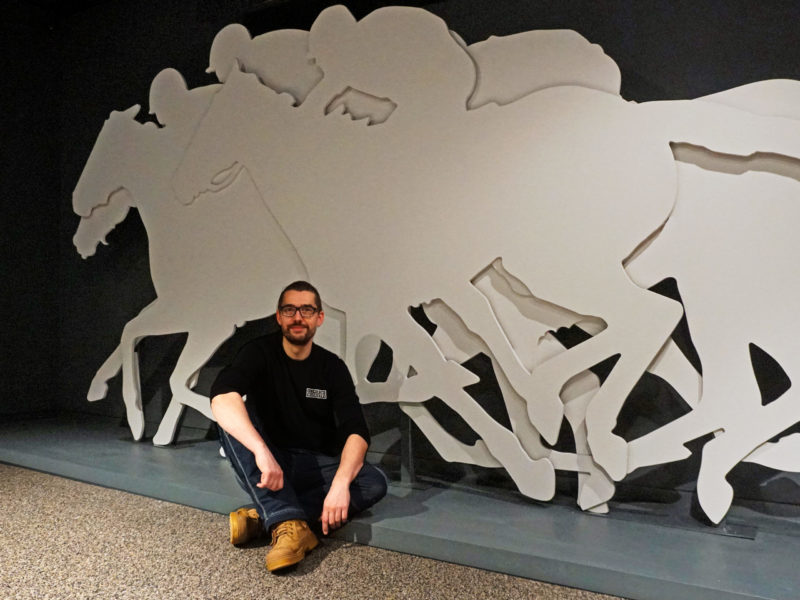 You started at Heijmerink Wagemakers earlier this year. How did you end up with us?
I have worked at a number of companies, and my last employer was Brandwacht & Meijer. It is a great group of makers, specialising in set design, who gave me the opportunity to develop in various fields. I had a great time there before I decided to move on to broaden my horizons and expand my skill set. I found a great place to do so at Heijmerink Wagemakers. I loved the fact that you are invited to exchange ideas with the engineers. It has made my job more varied and challenging than I was used to before. And besides, we build these really cool things, which we then get to install at a variety of locations.
That's right, we heard you went to Ireland after only two weeks on the job! Nice going!
Ha ha, that's true, I joined the company at exactly the right time! After a crash course and doing the assembly during pre-delivery, I went and assisted my colleague Christiaan in installing the Irish Racehorse Experience near Dublin. It took weeks of hard work, but it was super cool. Working as a construction supervisor at Heijmerink Wagemakers, you are not just the person who builds and installs the exhibits, you also form the connection between your colleagues at the office, the client, and the other people working on site. You are the linking pin, in a way, and survey the situation on site: are we delivering the quality level we promised? Are we still on track?
How do you spend your weekends?
Normally I don't have much plans scheduled on the weekend. It suits me, deciding what I'm going to do when the time comes. In my work, everything is planned way in advance. Of course, there are always fires to put out, but on the whole, the list of jobs is pretty clear. Chances are, by the way, I'll be doing jobs around the house, there is still a lot to be done. And I like to visit museums, unfortunately that will be difficult in these Corona times. Or I cook my friends a fancy meal. I love making Mexican or Indian dishes. And sometimes I pick the cuisine of a country that I don't really know but would like to get to know better through food. I'll just ask around, among friends or the people at foreign supermarkets about the best recipes and things like that… So, I don't know what the next weekend will bring yet, I'll see when the time comes.