Meet Matthijs! Our new colleague – who is not that new anymore, for Matthijs Rypma has been part of the team for almost three months now. Before joining us, he worked as a process engineer at a horseshoe producer in Groningen. It's about time to ask him some questions.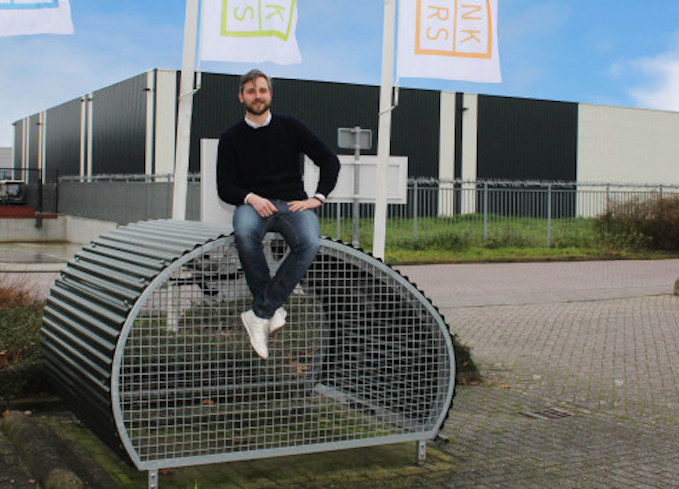 Why did you join Heijmerink Wagemakers?
In addition to developing and realising exhibitions, experiences, and interiors, Heijmerink Wagemakers markets a handy and sustainable product of its own: the Fietshangar, for storing bicycles. It's different from the company's other projects, and they were looking for a project manager. Because of my varied interests, I have made some detours in life, both in my studies and in my work experience, and so my profile is quite unique. International business, a touch of philosophy, a pinch of history, experience in technology, affinity with manufacturing, not averse to creativity. A diverse mix, but that's exactly why there was a nice match with Heijmerink Wagemakers. Here, among the engineers, I get to add some business management to the Fietshangar team.
What's the Fietshangar again?
In the Netherlands, we are at the forefront of bicycle development. Cycling can provide a solution to traffic jams and environmental pollution, but these increased numbers of bicycles need to be stored as well. At Heijmerink Wagemakers, we have developed a solution for this problem: the Fietshangar. For storing bicycles safely and dry in front of your house, at your place of work, or in the city. In a durable bike shed that does credit to the predicate Dutch Design. The first of its kind, it's a distinct element in the streetscape of many cities.
What are your plans for the coming year?
In the Netherlands, our Fietshangar can be found in several large cities, but we want to become part of the streetscape in other countries as well. That's a big challenge, but as long as the number of cyclists is going up, we'll keep increasing our efforts.
What do you do when you don't think about the Fietshangar?
I brood on a clue from the crossword in Saturday's newspaper. Or join in a board game. Ideally, I'll also grab a pint with friends or visit an obscure alternative rock band with my girlfriend.
More information: Fietshangar.nl